Buy Moti (Pearl) Locket (Silver). Moti (Pearl) Locket (Silver) price in delhi, india.
Buy Moti (Pearl) Locket (Silver). Moti (Pearl) Locket (Silver) price in delhi, india. All mukhi Rudraksha, (1,2,3,4,5,6,7,8,9,10,11,12,13,14, Ganesh Rudraksh, Gauri Shankar), Sphatik Samagri, Parad Samagri, Shankh, Jap Mala, Gold polished Yantra, Bhojpatra Yantra, Pooja Samagri, Luckystone, Navratna ornaments etc, all types of Astrological Products are available.
Moti (Pearl) Locket (Silver)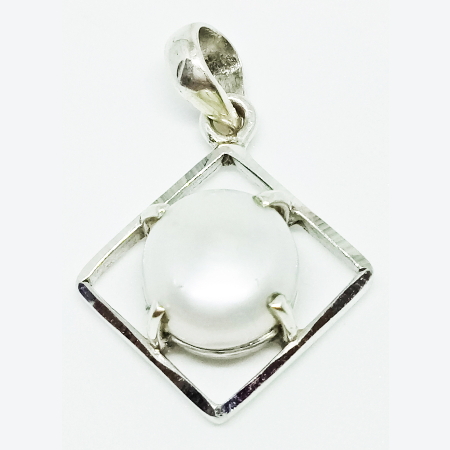 Price of Moti (Pearl) Locket (Silver) :
Rs.

900


In Stock : Yes
Weight : Silver: 3 to 5 grams, Stone: 5 Ct

100% Genuine
|
Secure Payment
|
100% Certified
Moti (Pearl) Locket Silver Original & Lab Certified

Moti (Pearl) Ratna Locket Pearl is known as Mauktik or Chandramadi in Sanskrit and Moti in Hindi. As it is the gemstone of Moon, Buying Moti (pearl) Ratna Locket can shower the blessings of moon on the wearer.
How to Identify Peral moti
A pure and original Pearl is round, white, bright, sleek, shiny like moon, serene and very light.
If we will put a pure Pearl in cow urine in a clay pot for a night, it will remain intact without changing its form.
After keeping and original Pearl in a glass container filled with water, a white lustre or white light will come out of the water.
How to Wear Pearl stone?
Anyone should wear Pearl on Monday on Poornima; in hasta, rohini or Shravan nakshatra. It should be worn in a silver or platinum ring after dipping it in Gangajal and Raw milk and after repeating Chandra Beej Mantra approx Eleven thousand times. The pearl stone should be worn in the little finger. It should be of two, four, six or eleven carats and should be worn at the time told by a qualified astrologer.
When one should avoid wearing Pearl ?
One should not wear Pearl in or near Amavasya.
How to Energize a Pearl by Mantra?
Chandra Beej Mantra Om Shraum, Shrim, Shraum Sah Chandramase Namah
After wearing the Moti (Pearl) Ratna Locket, the wearer should repeat Gayatri Mantra on rosemary three times and should donate rice, sugar, milk, white Fruit, white clothes etc.
Benefits of Moti (Pearl) Ratna Locket
After wearing an original Moti (Pearl) Ratna Locket the wearer gets the positive energy from the Moon that makes him mentally calm and concentrated.
The native gets mental strength by wearing the pearl ring.
Wearing Pearl ring gives rise in beauty.
Wearing Pearl will help in getting married.
Wearing Pearl ring gives family pleasures
Pearl controls many types of diseases related to brain and memory of the person.
Who can wear Pearl Gemstone?
People with Aries, Cancer, Scorpio or Pisces that are affected by moon should wear Pearl and in some special situation, after the opinion of a qualified astrologer, the native can wear the Pearl gemstone. You can buy Moti (Pearl) Ratna Locket online in the above situations and get it delivered to your doorsteps.
---
Tags : moti, pearl, silver, locket, stone, price, buy, online
» DELIVERED BY
Usually Delivered in 2-7 Days in India, 7-15 Days Outside India.
» Customer Support
Call Customer Support +91 9810143516 @ 10:00 AM - 08:00 PM Mon-Sat if facing issues while placing Order.
» Shipping
FREE Shipping on Order Total of 300 INRs or above.
» COD
COD is currently avilable for Delhi-NCR only with 250 INRs Extra of Order Total and Order + 2 days Delivery. 500 INRs Extra for Same Day Delivery.
» Payment Methods
NEFT / Transfer / Pay by Link / Credit Card / Debit Card / Net Banking / UPI / PayTm / Many Wallets / Others
---
Buy Now
Add to Cart