Buy Rudraksha 14 Mukhi Nepal. Rudraksha 14 Mukhi Nepal price in delhi, india.
Buy Rudraksha 14 Mukhi Nepal. Rudraksha 14 Mukhi Nepal price in delhi, india. All mukhi Rudraksha, (1,2,3,4,5,6,7,8,9,10,11,12,13,14, Ganesh Rudraksh, Gauri Shankar), Sphatik Samagri, Parad Samagri, Shankh, Jap Mala, Gold polished Yantra, Bhojpatra Yantra, Pooja Samagri, Luckystone, Navratna ornaments etc, all types of Astrological Products are available.
Rudraksha 14 Mukhi Nepal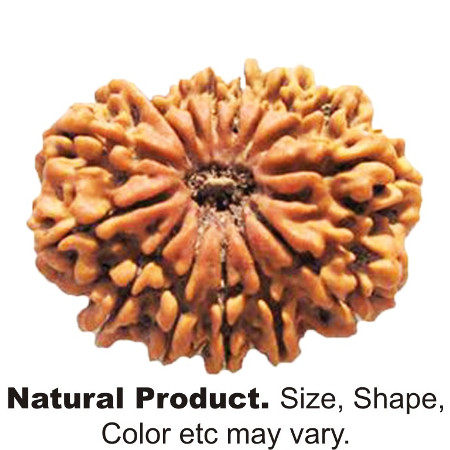 Price of Rudraksha 14 Mukhi Nepal :
Rs.

21000


In Stock : Yes

100% Genuine
|
Secure Payment
|
100% Certified
Rudraksha 14 Mukhi Nepal Original & Lab Certified
Fourteen Faced or 14 Mukhi Rudraksha Nepal is one of the most precious and rarely found Rudraksha. Genuine Fourteen Faced Rudraksha beads are difficult to find out. This Rudraksha represents both Lord Shiva and the Lord Hanuman. This Rudraksha helps in awakening the third eye chakra that governs sixth sense, sharpened skills and increased level of conscience, etc. With the awakening of the third eye, the wearer develops such an intuition that he can successfully predict the future. The main and supportive planet of this bead is Saturn and it controls the negative effects of Saturn on the Kundli of the wearer, especially during the Sade Sathi Period.
This Rudraksha bead is powerful in its effects and the wearer of this bead becomes a God decision maker. He gets saved from all the disasters, sadness and stress. It helps the wearer attain safety and wealth. This Rudraksha helps the wearer complete successfully even the most difficult tasks in his life and helps him reach the pinnacle of the goals set by him in his life. Wearer of this Rudraksha is rewarded with Moksha (salvation) from the world that is the core of human life. This Rudraksha is helpful in curing diseases. It provides cures to several ailments caused by the Planet Saturn.
The 14 Mukhi Rudraksha Nepal should be worn on the chest as a necklace, on the forehead on third eye region or on right arm. If one wears this bead on the arms or on the top of the head, he is honoured by the God himself. The wearer of this Rudraksha becomes divine and blessed by Lord Shiva.
Main God: Lord Shiva
Ruling Planet: Saturn
Best for: Safety and Wealth.
Day for wearing: Monday
How to wear? The wearer should Cap the Rudraksha bead in gold or silver metal and strung it in red thread. It should be worn around the neck or kept at the Altar while chanting the prescribed mantra.
The Mantra for wearing Fourteen Faced Rudraksha: "Om Nam Chaturdasha Vaktrasya" and "Om Phaum Sphe Khaphare Hrirtron Hamsaphre"
The significance of a 14 Mukhi Rudraksha Nepal:
The 14 Mukhi Rudraksha Nepal gives strong will power, courage and bravery and it gives very quick results to the wearer.
This Rudraksha gives the blessing of the Lord Hanuman to the wearer that makes him fearless, dedicated to the cause and determined.
It is helpful in case of Mangal Dosha and helps in rectifying it by the positive energy stored in it.
Benefits of the 14 Mukhi Rudraksha Nepal:
It gives the power of problem-solving by following a balanced approach.
This Rudraksha helps the Businessman, politicians, managers, service man, and leaders achieve a great success in their respective fields of work.
It helps in identifying and enhancing the hidden qualities of the wearer.
Medicinal benefits of the Rudraksha:
Its positive energy helps in the bone and muscles healing.
This Rudraksha helps in curing Arthritis.
It helps in curing piles.
It helps in curbing the obesity in the wearer.
Astrological view:
The Main planet of 14 Mukhi Rudraksha Nepal is "Saturn ". Hence, this Rudraksha is very helpful in absorbing the negative effects of the planet Saturn.
14 Mukhi Rudraksha Nepal and Puran:
There are a lot of things that have been said about this Rudraksha in Puran & Scriptures. These Puran and Scriptures include Shiv Puran, Padma Puran, Shrimadevibhagwat, Jabalopnishada, etc. In Vidyesvara Samhita of the Shiv Puran, it is mentioned that 'a Rudraksha with the fourteen faces is the highest Shiva. It should be given respect and should be worn on the head with great devotion'. In chapter 57 of Padma Purana that has a wide explanation about this Rudraksha, it is said that the wearer, if wear this Rudraksha on his head or arm, will be always honoured and blessed by the other gods and get a religious merit that is always respected.
Benefits of this Rudraksha Bead:
The governor of this faced bead is Lord Trayambak Shiva.
It gives its wearer Very High Intellectual Capacity, mind power and mental ability which is very important and must for individuals like IAS officers, IPS officers, Judges, Ministers, Army Chiefs or highly ranked Army Officers etc.
This fourteen faced bead Rudraksha has immense powers as it awakens the intuition Power and sixth sense of the wearer by strengthening his Agney Chakra.
If you are in a Profession where impression is everything, then this bead is specifically suitable for you as a professional because it"ll multiply your skill and ability to impress to almost 100 times.
How to Wear:
Best Time (muhurat) to wear Rudraksha are During Solar(sun) or Lunar(moon) Eclipses, Mesh Sankranti, Uttarayan, Maas Sankranti, Amavasya, Poornima. By Wearing any Rudraksha Bead in this auspicious Muhurta (Times) any Human canget rid of his Bad Deeds.
मंत्र : ॐ नमः |
---
Tags : rudraksha, 14 mukhi, nepal, price, buy now
» DELIVERED BY
Usually Delivered in 2-7 Days in India, 7-15 Days Outside India.
» Customer Support
Call Customer Support +91 9810143516 @ 10:00 AM - 08:00 PM Mon-Sat if facing issues while placing Order.
» Shipping
FREE Shipping on Order Total of 300 INRs or above.
» COD
COD is currently avilable for Delhi-NCR only with 250 INRs Extra of Order Total and Order + 2 days Delivery. 500 INRs Extra for Same Day Delivery.
» Payment Methods
NEFT / Transfer / Pay by Link / Credit Card / Debit Card / Net Banking / UPI / PayTm / Many Wallets / Others
---
Buy Now
Add to Cart