Rudraksha 5 Mukhi Nepal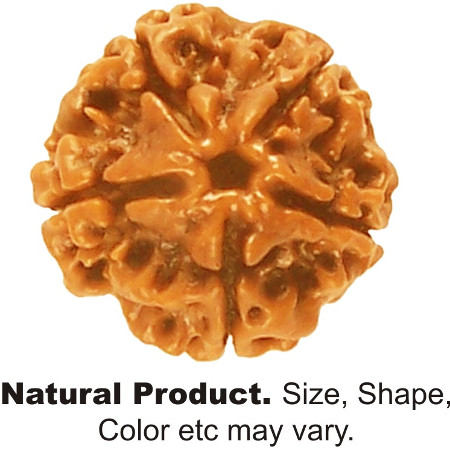 Price of Rudraksha 5 Mukhi Nepal:
Rs.200
In Stock : Yes
Size : 20-25 mm
Weight : 2 to 3 grams
Weight per Unit : 2-3 gm.
Buy Now
Add to Cart
100% Genuine
|
Secure Payment
|
100% Certified
Rudraksha 5 Mukhi Nepal Original & Lab Certified
Paanch 5 Mukhi Rudraksha Nepal represents five Pandava in Mahabharata. Some astrologers believe that it represents Lord "Rudra Kalangi" which symbolizes the five forms of lord Shiva. The person who wears this Rudraksha after purification & awakening the Rudraksha with the help of Mantra, becomes extraordinary in almost all the fields of life namely intelligence, strength, business, money, love, etc. This Rudraksha helps in keeping the wearer on the path of Truth and helps him in making wealth.
This Rudraksha provides all type leisure and comforts to the wearer. Paanch 5 Mukhi Rudraksha Nepal is positive & suitable for both Sadhu (saint) and Grihasta (family man). The power of this Rudraksha can give unbeatable strength to the wearer and can combat thousands of enemies in one go. The planet Associated with this Rudraksha is Jupiter hence it stresses on gaining knowledge and self-actualization. It attracts positive energy and growth and helps in the mental and spiritual well-being.
Paanch 5 Mukhi Rudraksha Nepal maintains the balance of five elements i.e. Agni (fire), Jal ( water), Vaayu (Air), Aakash ( sky), Prithvi ( Earth) in the wearer's body and makes his body highly immune to fight different diseases in different weather. The most compatible day for wearing this Rudraksha is Thursday. One should wear the Rudraksha only after Purification.
Significance of Paanch 5 Mukhi Rudraksha Nepal
It removes the negative effects of the planet Jupiter on the Kundli of the wearer.
It enhances once intelligence and conscience.
It is frequently used as rosary beads while worshipping and meditating.
Worshipping the Paanch 5 Mukhi Rudraksha Nepal brings wisdom and intellect.
Benefits of Paanch 5 Mukhi Rudraksha Nepal
This sacred bead helps in mental sharpness and increases the level of spiritual knowledge.
It highly beneficial for the research professionals.
This Rudraksha is highly recommended for students, teachers, scholars, writers, and journalists.
This is useful for the students preparing for competitive examinations.
It is helpful for professionals involved in creative jobs like singing and public speaking.
Wearer of this Rudraksha never gets sudden and untimely death.
Medicinal Benefits of the Rudraksha
It is helpful in curing Blood pressure, mental disability, obesity, heart problems, stress, anger management, neurotic and maladjustment problems, diabetics, piles and many other serious health problems.
Mantras for Paanch 5 Mukhi Rudraksha Nepal
One should chant these mantras while wearing and worshiping the Paanch 5 Mukhi Rudraksha Nepal
"Om Hoom Hreem" - Mantra has taken from Padma Purana
"Om Namah Shivaya"
"Om Hreem Hoom Namah"- Mantra has taken from Skand Puran
"Mahamrityunjai Mantra" – Mantra has taken from Brahajjalopanishad
"OM. Tryambakam Yajamahe Sugandhim Pushti" – Mantra has taken from Vardhanam Urvarukamiva Bandhanan Mrityor Mukshiya Mamritat
"Om Hreem Namah" – Mantra has taken from Shiva Purana
How to wear the Paanch 5 Mukhi Rudraksha Nepal?
While wearing any Rudraksha, one should try to follow the correct methodology for the best results. While wearing Paanch 5 Mukhi Rudraksha Nepal, Take three beads of the Rudraksha equal to the size of Amla, and string in red thread. It should be worn after touching it to a Shivalinga and chanting the mantra.
Who should wearPaanch 5 Mukhi Rudraksha Nepal?
Anyone can wear the Paanch 5 Mukhi Rudraksha Nepal. One can wear it in any number around his neck, but it should not be less than three beads. Those who wish to have the best experience and get the best results of Rudraksha should wear a necklace of Rudraksha (7 mm to 10 mm in diameter) or three numbers of large Paanch 5 Mukhi Rudraksha Nepals. Beads lower than 7 mm may not give the desired outcome as these are usually ornamental in nature.
Paanch 5 Mukhi Rudraksha Nepal available in standard shops is original as it is easily available and is not rare like Ek Mukhi Rudraksha. The rosemary or the necklace made of this Rudraksha should be in 27+1, 54+1 or 108+1 in numbers. The last bead in all the necklaces is a mere bead, commonly used in rosemary to show the end of the loops of chanting of the mantra. This is used in wearable necklaces as well. You can also try 81+1 combination as it is also a multiple of 27 basic beads. This is to be used only when there is no other option while making the necklace or if the beads are not available.
A combination of three and more in any odd number can be worn. The Paanch Mukhi Kanthas having bigger Paanch Mukhi beads in 27+1, 32 or 36 in numbers are very common. It is an unbeatable option to wear for overall good health, to wave off the fear and during meditation. Avoid using damaged beads because it may not give you the desired results. It can also be put on a photo of a one's deity as it is pure in nature.
Other Benefits of this Rudraksha Bead
This bead is most widely and easily available Rudraksha beads.
Lord SadaShiva is the governer of this faced Rudraksha Beads. It gives all materialistic thngs to the wearer and hence also called the bead for increasing Good luck. The malas / Rosaries of this faced Rudraksha beads are most beneficial for the Japa / Chanting of mantras.
It works beautifully in balancing 5 elements in body so that a person remain disease-less and health. It Also helps in regulating high or low blood pressure & controlls the accumulation of extra body fats. It Protects very efficiently for Communicable diseases.
How to Wear:
Best Time (muhurat) to wear Rudraksha are During Solar(sun) or Lunar(moon) Eclipses, Mesh Sankranti, Uttarayan, Maas Sankranti, Amavasya, Poornima. By Wearing any Rudraksha Bead in this auspicious Muhurta (Times) any Human can get rid of his Bad Deeds.
मंत्र : ॐ ह्रिम नमः
---
Tags : rudraksha, 5 mukhi, nepal, price, buy online