Rudraksha 4 Mukhi Nepal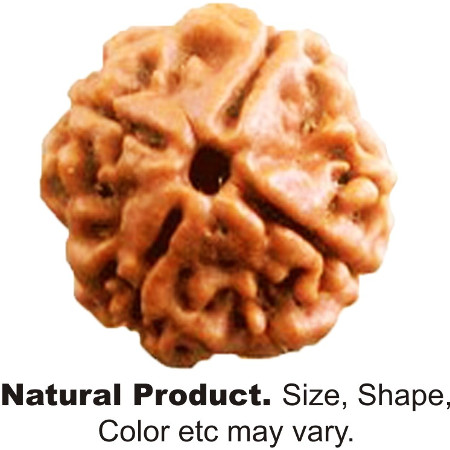 Price of Rudraksha 4 Mukhi Nepal:
Rs.300
In Stock : Yes
Size : 18-20 mm approx.
Weight : 3 to 5 grams approx.
Weight per Unit : 3 to 5 grams
Buy Now
Add to Cart
100% Genuine
|
Secure Payment
|
100% Certified
Rudraksha 4 Mukhi Nepal Original & Lab Certified
The Char 4 Mukhi Rudraksha Nepal is a sacred bead that is a symbol of four Vedas i.e. Rigveda, Samaveda, Yajurveda and Atharvaveda Veda. The wearer who worships it with a pure heart and in a prescribed manner gains immense knowledge and intelligence.
This Rudraksha can make the wearer own the power to command over 4 Vedas, spirituality and ancient philosophy. The Rudraksha is a huge source of positive energy and helps in removing indolence, over sleeping, and it keeps unwanted dream at bay. The worshiper of the Char 4 Mukhi Rudraksha Nepal always wins and becomes powerful and courageous. He always achieves what he promises.
The Char 4 Mukhi Rudraksha Nepal is useful to succeed in every field of life. This powerful bead represents the four directions - east, west, north, and south. Hence, the worshiper will gain from all the directions.
Char 4 Mukhi Rudraksha Nepal and the Effect of Planets
Char 4 Mukhi Rudraksha Nepal is useful during the Mahadasa and Antardasa of Mercury. Mercury is the ruling planet of this Rudraksha. This is the reason that this Rudraksha is useful when the mercury is in its weak position.
The planet Mercury represents Goddess Sarasvati and Brahma and its sacred bead Char 4 Mukhi Rudraksha Nepal helps in improving the brain power, logical power and intelligence of the one who wears it or worships it regularly. This Rudraksha releases immense positive energy and it helps keep one physically healthy and robust.
How to wear Char 4 Mukhi Rudraksha Nepal
The preferable day to wear this Rudraksha is Monday. One should rinse the Rudraksha in the holy water of Ganga. The owner of this Rudraksha should apply sandal wood paste or Tilak on it while worshiping it and light incense stick and lamp with cow ghee. Afterward one should offer white flowers while doing rituals for Char 4 Mukhi Rudraksha Nepal. While worshiping or wearing Char 4 Mukhi Rudraksha Nepal, one should Chant the Mantra "Om Vam Kam Tham Hum" 108 times.
Benefits of Char 4 Mukhi Rudraksha Nepal
Char 4 Mukhi Rudraksha Nepal improves wearer learning powers with the help of the energy of the planet Mercury.
It helps the wearer in acquiring knowledge, increases his understanding capability and creativity.
It helps in obtaining spiritual faith and insight that in turn, enlightens the wearer's brains.
It increases the concentration of the wearer and in turn, helps in meditation and spiritual Sadhana
This Rudraksha helps the wearer in attaining a growing sense of individuality, self-esteem, and creativity.
This Rudraksha bead takes the wearer on the path of liberation (Moksha) after life.
Char 4 Mukhi Rudraksha Nepal reduces the negative influence of the Planet Mercury and Jupiter.
Results of the negative impact of Mercury are dull mind, lack of understanding power, difficulty in speech or communication, etc. These effects can be reduced by wearing the Char 4 Mukhi Rudraksha Nepal.
This Rudraksha also helps in eliminating the issues of lethargy and excess sleep.
Medicinal benefit of Char 4 Mukhi Rudraksha Nepal
It helps in regulating the functioning of the thyroid gland and helps in improving immunity.
The energy of Char 4 Mukhi Rudraksha Nepal helps in curing the sore throat.
Wearer of the Char 4 Mukhi Rudraksha Nepal develops a good respiratory system.
It helps in curing the diseases like bronchitis and hay fever.
It is helpful strengthening the Adrenal and heart area of the body and controls any related problem.
It takes care of brain very well and helps in improving memory and diseases like epilepsy.
This Rudraksha helps in curing paralysis and gall bladder related diseases.
Rules of wearing Char 4 Mukhi Rudraksha Nepal
The wearer should always keep the Rudraksha clean. Dust and dirt can enter the pores of the Rudraksha and make it less effective. Clean the Rudraksha regularly with a soft brush that does not harm the bead. It is also important to keep the thread clean or change it. After cleaning, the wearer should wash the Rudraksha with some Ganga Jal. This will keep it pure.
Polish the Char 4 Mukhi Rudraksha Nepal and oil it to maintain its beauty. After that offer the bead with some incense stick. Always clean and oil the Rudraksha before using it if it is not used from a long time.
Always try to find out an original Rudraksha because it will not give any benefit if it is not original or impure.
Rudraksha can give skin allergy to some people because it is hot by nature. It is always good to worship the Rudraksha by keeping it in your altar.
Other Benefits of this Rudraksha Bead
Lord Brahma - The creator of Universe governs this faced rudraksha beads.
It increases the power of original thinking and helps those who are involved in mental pursuits. It helps to remove the malefic effects of Mercury and helps in developing the power of speech.

Beneficial in diseases like asthma or any other respiratory tract problem. Very good for professionals from the fields of electronics, computers, Information Technology, TeleCommunication etc. Refreshes the mind and hence increase the grasping power of the mind so is Excellent for researchers, students, scientists and managers.

How to Wear:
Best Time (muhurat) to wear Rudraksha are During Solar(sun) or Lunar(moon) Eclipses, Mesh Sankranti, Uttarayan, Maas Sankranti, Amavasya, Poornima. By Wearing any Rudraksha Bead in this auspicious Muhurta (Times) any Human canget rid of his Bad Deeds.

मंत्र : ॐ ह्रिम नमः
---
Tags : rudraksha, 4 mukhi, nepal, price, buy online